Sep
12
By Group Captain Kapil Bhargava (Retd)
History has a strong tendency to get revised and updated as new information emerges. Almost all the text of the earlier article came from a book by Late Mr Alka Sen, one of India's earliest aviation correspondents. Now we have Jefferis Evans D'Angelis the great grandson of the then famous Flying Corsican, to point out that the actual first flight ever in India took place in Madras on 10th March 1910, nine months ahead of the one in Allahabad. He is correct in this claim and this post is an update of the last article. Additional; background of the intrepid designer-pilot of the past is also reproduced here to introduce his many facets to us.
Giacomo D'Angelis, a confectioner from Corsica, arrived in Madras in 1880 and opened his `Maison Francaise'. His `Kitchen Department', he assured the gentry of Madras, was "the first and finest of its kind". It didn't take long for D'Angeli's catering service to get known. His excellent service soon enabled him to open a small hotel in 1906. Continuing to prosper, this eventually became the Hotel d' Angeli, with unmatched luxury and facilities, including an electrical lift, running hot water, etc. But with passage of time, changes of ownership and name, the hotel premises on Mount Road, Madras transformed into Bata's main showroom in Chennai.
An extract from its own vintage archives was published by the The Hindu on Wednesday, July 16, 2003. You can read the full article for yourself on him at http://tinyurl.com/kkto3n. This recalls the remarkable feat of Giacomo d' Angelis, popularly known as the "Flying Corsican" He had a biplane constructed, presumably to his own design. He then successfully flew it. This achievement is also recorded in Flight magazine as the following extract shows: -
Inspired by Bleriot, his fellow-Frenchman, who was the first to fly across the Channel, D`Angeli got Simpson's to build him an aeroplane! He tested this made-in-Madras machine in Pallavaram, found it flew, then decided to offer flying demonstrations one day at Island Grounds for a fee. Crowds paid up to watch those demonstrations in March 1910 – and at least one boy was courageous enough to accept D'Angeli's invitation to fly with him during one of his several flights that day. D'Angeli, thus, was not only the first in the South to run a modern hotel, but he was also the first to fly in South India.
This story is further corroborated by an extract from Flight of March 26, 1910. Please see the pdf image from it at http://tinyurl.com/ontxjo. This is reproduced from FlightGlobal/Archive
AN INDIAN BIPLANE.

We have yours giving us names of motor engines, for which we are much obliged, and in return we are posting you photograph of what we believe is the first aeroplane in India, which has been constructed by one of our customers, a Mr. C. D'Angelis, of Madras. The machine has been built by our friend entirely fromhis own designs, and we understand that although up to the present he has been experimenting with a small horse-power engine, the results given by this are so satisfactory that with a higher horsepower he anticipates being able to make long and consecutive flights.
E. AND A. LEVETUS AND Co.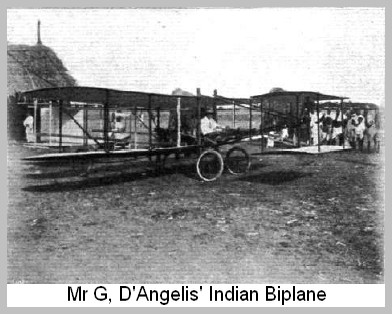 In view of this evidence, Allahabad will have to concede that the aircraft in Madras made the very first flight in India and in fact in Asia. Obviously, with inadequate communication facilities, this was not known to newspapers in Allahabad or Calcutta. Thus, each of these three cities claimed the first flight for themselves. But the final pride of place should now go to Madras with the first flight in all Asia by Giacomo D'Angelis on March 10, 1910.
Fortunately the rest of the history of early aviation In India can stand as it is recorded in the earlier post – so far! This can remain until more new information turns up to correct our history of the early days of aviation in India.
Sep
8
By Gp Capt Kapil Bhargava (Retd)
This is a very personal tale of a teen age schoolboy during World War II. My father, an ICS officer, had elected the judiciary within four years of joining the service in 1929. He was determined to avoid having to implement the oppressive British rule. Most of his service was in UP towns, except for the last five years when he was a judge in the Supreme Court.
At the time of declaration of war, we were in Bulandshahar where my father was the District & Sessions Judge. In July 1940, prior to the start of the academic year, he was posted to Gorakhpur also as the District & Sessions Judge but with a significant increase in his grade. I mention this as the events of 1942 Quit India movement were very relevant to his career, of which (maybe) I will write some other time. In Gorakhpur I joined St Andrews High School in the 8th Class for the start of my regular schooling.
My ambition to become a pilot went back to 1936 as an eight year old when I saw and touched an Empire Airways flying boat at Allahabad, our home town – of sorts. By the time the WW II started, I was firm in my decision to join the Air Force. Naturally even before my thirteenth birthday, I was following the news of the war quite regularly. I read about the British capture of Benghazi, Libya's second largest city on 9th February 1941. The British forces, with large contingents of Australians, had little trouble defeating the Italians who were then the colonial rulers of the country.
The British Government decided to celebrate this "Fateh Benghazi" in a grand manner even in Gorakhpur. Apart from other events which I was unable to attend due to being too young, a fireworks display in a public park was open to every one. My parents allowed me to go for this, escorted by an orderly. The display was quite impressive. But I got a bad fright when a rocket instead of going up came sliding on the ground directly towards me. By stepping aside a bit in a hurry, I missed it by a few inches. This should have been an ominous warning sign to me. But I was in no mood to worry about it.
Incidentally, I learnt a few days later that Gen Rommel came over with his Afrika Corps and captured Benghazi back from the Allies by early April! But by then I had already become a casualty of the war.
I was an active boy scout in school. One day in the first week of March, our Scout Master told us about the Government's plans to observe a Focal Day. This was scheduled for Monday, 10th March 1941. The Focal Day was conceived to encourage Indians to take full part in the war effort, presumably to help with food, money and manpower. But the main stress was on passive air defence. We were already observing blackouts, all our glass windows had been papered over, and a sort of shelter room with emergency supplies and medicines had been set aside.
The Scout Master explained that the main intention of the Focal Day was to demonstrate passive air defence precautions and practices. He mentioned that we were under threat from the East and could get bombed at any time. As such we would see how air raid shelters should be constructed at home and used during air raids. A Civic Guard had already been raised and was identified easily by its light blue uniform and the words Civic Guard on the shoulders. The Focal Day was mainly for training the personnel of this force and to show to the public how obedience to their instructions would save lives.
The Scout Master then came to the crux of the show. He said that an aircraft would fly over and drop bombs. My ears pricked up! Any citizens who did not take refuge in the shelters would get injured and be taken away for treatment by the team acting as the Red Cross. Civic Guards would encourage citizens to get into the air raid shelters and be safe. He then asked for volunteers to play the role of citizens. My hand was up instantly. And because citizens were supplied by the school, my parents allowed me to join in.
On the day, we arrived at the large open field, presumably the sports grounds of an Army establishment. Years later, I guessed that this ground was at the recruiting centre which was very actively enrolling Gurkhas who came across from Nepal to join the Army. In it, tents had been put up as our houses. We were four of us in the tent, all boys from my own class. After the show began, suddenly the air raid siren went off. We promptly came out to look out for the aircraft due to bomb us. But just as promptly the Civic Guards pounced on us to drag us to the air raid shelters. I protested loudly but to no avail that I had come only to watch the aircraft not for hiding in a shelter. But the show was also meant to demonstrate how the Civic Guard would force citizens to take shelter despite any resistance from them and save their lives. I suppose my genuine reluctance was appreciated as good acting by the authorities!
I was frog-marched to a shelter and installed in it. The shelter was quite deep underground with perhaps eight or ten steps going down from either open end. It retained a fairly sturdy layer of the original ground as its roof. It had enough space inside for a man to stand up without having to bend. Benches had been placed along the full length of the shelter on one side for us to sit down. The first place was already occupied by a Civic Guard. I was seated at number three from the end which was not used for entry. An adult man was between the two of us.
The Civic Guard had a basket full of dark coloured spheres, slightly larger than cricket balls. These were powerful bombs (fire crackers) with fuses sticking out of them. As the single engine aircraft, almost certainly a Hurricane, flew overhead, the pilot dropped small sand bags from the open cockpit. Civic Guards nearest to the bag where it hit the ground exploded the large bombs. I suppose it was as good a simulation of bombing as safely possible. Soon enough it was our turn. The Guard climbed the steps fast and let off the cracker.
The blast of the bomb was quite powerful and we felt the hot air from it inside the shelter. The wind blowing towards us also helped greatly. I immediately requested him to let off the next one away from the entrance and place it where the wind would not blow its blast towards us. He lit the fuse of the next cracker and I do not know what happened next or why. All the bombs in the basket exploded at once. There was a large ball of fire blown inwards. The shelter was filled with the thick acrid smoke of burnt gun powder. Apparently, the Civic Guard had not even gone out of the shelter while lighting the fuse. I could see he was badly inured. There was a hole in his shirt at the stomach and through it raw flesh was visible above his belt. The skin had disappeared. There was capillary bleeding which made it look pink and red. He also lost the skin on his forearms and around the knees. But his stockings protected his lower legs. A little above the knee, there was no injury due to the half-pants preventing the blast scorching the thighs and the groin. He was moaning in pain, unable to move.
The person sitting between the two of us had disappeared. He was wearing a full sleeve shirt, trousers and glasses. He escaped the way we had entered away from the blast side and was not injured, though I believe one or two sparks had marked his skin somewhere with tiny black dots. He claimed that these could not really be called any type of injury. All other almost twenty occupants of the shelter escaped from the entry end which all of us had used earlier. Seeing the condition of the Civic Guard, I helped him out of the shelter from the other end, called for first-aid and handed him over to them. They carried him away on a stretcher.
Out at last in the fresh air, I could see the aircraft make another pass and drop more bags. The big crackers were going off all over. I started to walk towards my tent and felt cool wind on the legs. I looked own to find that the skin on my legs had also vanished. On the right leg its left side was injured but on the left leg it had gone from all sides except the back. The flesh was visible and capillary bleeding had started. The loss of skin was limited between my half-pants and socks. The knees had not been hurt. The injury was a surprise to me as the fireball had been on my right. Yet the greater damage was on the left leg with the right side of the right leg unmarked. I did not think that it was any terrible injury and reached the tent.
My lucky Sikh tent mate had somehow escaped being taken to any shelter. He had watched the bombing runs quite well. But the moment he saw my legs he vomited and then continued to retch. I could not tolerate the sight of him and came out of the tent. I was spotted by the Red Cross pretenders who pointedly helped me walk to the first-aid tent, though I did not need their assistance. The Scout Master joined us fast enough and decided to take over the treatment.
The Scout Master's treatment was simplicity itself. He wrapped dry cotton wool all over the exposed flesh and wrapped bandages around both my legs from just under the knees to the line of the socks. By then my parents had also seen me crossing the ground first to the tent and then to the first-aid centre. My father asked my mother if I was wearing red stockings. She said that I had nothing of the sort at all. My father came to the centre and immediately whisked me away to the Government hospital. The civil surgeon was there and took charge. He said that the cotton had stuck to the flesh and had to be removed or else the wounds would turn septic. He spent the next three hours cleaning it off. At the end he applied some ointment and bandaged the legs.
While at the hospital my temperature had begun to rise. The doctor explained that this was due to extensive inhalation of smoke from the gunpowder in the crackers. According to him, this was the real danger to my life. But the fever got over after four days. The Civil Surgeon was not quite right in his instant verdict. After a week or so, there was a foul smell from both legs and they were perhaps turning septic. Some scab had formed in parts. He asked me to be brave and I promised not to cry or scream. He then ripped off the bandages, scab and all. This was my bravest act in the accident – I did not even whimper. The surgeon explained to me that if the legs did not heal they might need to be amputated below the knees. But they responded to frequent application of tannin.
It took several months for me to be able to walk again and later do a slow jog. That is when I was allowed to call some school mates and arrange a game of rounders in our grounds. My first slow run around the diamond was applauded by all of them. Soon enough, I was well again though I have marks on both legs as incriminating evidence of this injury. Once the Civic Guard and I were well, the Government, with the British Commissioner officiating as the senior-most officer in town, decided to honour us with a parade. It was a simple parade with the two of us standing in front with a squad behind us. I was called first and handed over a scroll which was a "sanad" for meritorious war work signed by the Governor of UP. The Civic Guard got a watch. As we returned to our places, he said to me that he wished he had got the sanad and I the watch. He thought that a document like that would have helped him land a Government job. I heartily agreed with him.
I no longer have this scroll. I suspect that my father with his nationalistic leanings had got rid of it. This was obviously meant to prevent me crowing about it any time in future. In fact this is the first mention of it in any of my writing so far. Perhaps some time later I will describe how my father functioned during the Quit India movement (August 1942) to his eternal credit. The consequences of the choices made by him stood him in good stead in later years. My choices landed me in the Air Force, but after a few hitches.
Mar
22
 By Kabir Bhargava
I am a big foodie and love a variety in my food. But as I am a little thin, I have had a lot of people worried about my eating habits. Most adults get so concerned on my leanness that they start giving ideas of what or how much I should eat. I may have considered eating a waste of time as a toddler but for some years now I have looked forward to a good meal.
The food that pleases me instantly is Italian, Chinese, Mughalai, or what people refer to as junk food. Even from these categories, I prefer the outside version to homemade. My Mother tries to create food that I run after, at home, and that becomes her sure way to get me to be obedient! Home cooking is fine if it goes beyond Dal-Roti-Subzi.
I enjoy chicken in almost all forms. I love it in Lasagna, Pizza, Pasta and other Italian dishes. In Chinese I like a good red curry with noodles and momos—much like most North Indians. For my school Tiffin, I like all varieties of junk food and mostly non-vegetarian as they get me fame. You would wonder how? Well, I can then trade food for more food from other tiffins. That's to say, junk food appeals to most of my class mates. So I take Salami sandwiches, jam sandwiches, pizza on toast and any other special dish that was made the previous evening like Pastas or Pitta Pockets.
My idea of a perfect snack is to eat various sorts of munchies with a cool drink while watching TV. I also take pleasure in eating Thai, Lebanese, Mexican or other specialties from various places. I don't know whether I would like the original dishes from these cuisines but I do like the Indian version. I never refuse a good dinner outside and wonder how is it that I earned the label of a poor eater? I only insist on a variety and to my mind it's the glamour and presentation that make the food tastier!
Cheers,
Kabir
Mar
22
By Kabir Bhargava
Pink Panther 2 has generally been recognized as a badly made movie but I found it quite funny. It is a continuation of the previous movie and Steve Martin has to protect the Pink Panther diamond in this one too. Steve Martin with his accent and clumsy ways gave me great laughs. He is the hero and is called Inspector Clouseau. Aishwarya Rai, an Indian actress was surprisingly chosen for an important role in this Hollywood movie. Another comedian whom I like is John Cleese and he is playing the role of Chief Inspector Dreyfus.
There is a thief called The Tornado who has been stealing priceless valuables from museums. Chief Inspector Dreyfus assigns the case to Clouseau who has been giving parking tickets to people outside the museum where the Pink Panther diamond is kept for show. Clouseau was being sent to join the Dream Team of Detectives who were going to solve the crime together. He was reluctant to leave France because he thought the Pink Panther might get stolen. As he was exiting France it was all over the news that the Pink Panther had been stolen. The Dream Team reached France where they were investigating the theft of The Pink Panther. Clouseau goofs around a lot which makes the team members fire him. Sonia (Aishwarya Rai) is there to help the team as she has written a few books on the thefts done by The Tornado previously. The rest of the team finds the missing items and the case was solved. Then Clouseau himself says that the Pink Panther 2 was missing. He was able to catch the thief who turns out to be Sonia. She had a gun and tried to escape, all the detectives went after her and there was a lot of confusion and the result was that she shot the diamond. The diamond shattered into several pieces leaving everyone aghast. Then Clouseau took out the real one and said that the one she shot was the replica. He had secretly switched the two thinking it might get stolen. The movie concludes with Clouseau as the hero of France again.
I love the jokes cracked in the movie and Steve Martin's behavior with The Pope whose ring was stolen and many such funny moments. It is a movie one should definitely watch. Do share your comments and views.
Cheers,
Kabir
Mar
15
I study at the Shri Ram School Aravali. It is an ICSE board school which is considered to be quite tough. From 7 in the morning to 3 in the afternoon, I am out at school. I can confirm that school life is tough.
I wake up at 7 but get out of bed by 7:15. After getting ready and eating breakfast, I leave for the bus stop at 7:50-55 and it is about a two-minute walk. I reach school by about 8:15. School starts at 8:30. The entire day is dedicated to studying with an hour for breaks and on some days of the week an activity like Games, Drama, Library etc. The school provides lunch that is pathetic. We serve ourselves only half a spoon of each dish and spread it, leaving the effect that we ate a lot. The best part about any day at school is being with friends and talking. I get really tired throughout the day and reach home only by 3. Then I have to do any incomplete work or homework.
It was only a year and a half back that our school got a new Principal. Since then, things have advanced a lot. The current school building would become the senior wing and there is a junior wing coming up on the side. It is said that we would have lockers in corridors instead of desks and there would be subject classrooms. I am looking forward to that day. Also, a Friday- stay- back started. There were groups allotted. I was in the Photography group. The others were Dramatics, Cookery, Horticulture, and Debating. This was only done for the senior school. Since the junior school went back home, there was a shortage of buses. The stay- back was from 2:30 to 3:30. Three buses were combined to one and then we left. So, in a 50- seater bus there are 70 students. After three Fridays, the clubs stopped. Since then we have been having inter- house competitions or matches. On Fridays, I reach home  around 4:30 pm due to badly organized buses. The exam schedule has also changed. The rule of exams from class 6 has been replaced by weekly cycle tests. This was done to avoid too much studying and tension. The cycle tests carry 40 marks and are held every Wednesday. They are quite easy and manageable. But exams start at the finals of class 8 once again. I have given a year of exams and a year of cycle tests. I am giving half a year of cycle tests and then exams since I am in class 8 now.
School has become very strict about student presentation and discipline. There is insistance of tucking in of the shirt and keeping short hair where students prefer the opposite for a casual look.
I am always looking forward to the next weekend or a long break. Last week we had a five- day break. Wednesday was Holi, Tuesday was Eid, Monday was declared a holiday and the weekend before that. Due to the holiday on Monday, the next Saturday was school. So we got only a day's break which was Sunday. School to me means something dreadful! What did yours mean to you?  
Mar
6
By Kabir Bhargava
Books to me usually mean a job to finish. Especially the long winding ones which put me to sleep. But there are those that I just can't stop reading and they are mainly the humorous ones. Some that I recall are The Horrible Histories series, The Captain Underpants series and The Rotten school series. The names themselves suggest how funny the books might be. Don't they?
I have read mystery books of Famous Five and Secret Seven but found them dull. The books I use the most in my life are my school ones. They are very tough and get tougher each year. There have been only a few that have given me pleasure such as Gerald Durrell's My Family and other Animals that I read as part of my course last year. It made me want to roam about in the sun like Gerald exploring little creatures.
There was a time I was taken in by Roald Dahl's style of story-telling and Quentin Blake's illustrations accompanying the text. So I read a lot of Dahl books I could get hold of – Boy, Matilda, BFG, The Witches, James and the Giant Peach, the Enormous Crocodile, Esio Trot, Charlie and the Chocolate Factory, Charlie and the Great Glass Elevator, Magic Finger  – impressive, isn't it – considering that I don't call myself a book-lover?
I have also read four Harry Potter's but they were a struggle. The movies are of course more enjoyable.   
I read a lot of car magazines — my favourite being Autocar and Top Gear. I have subscribed to the world's most popular sports magazine called All Sports. Comics are one of the dearest genres of books to me. I have a vast collection and read some of them repeatedly. Especially, Calvin and Hobbes. I have sixteen Calvin and Hobbes books and have read all at least once and a few two or three times. I also have Asterix and Tintin which too give me big laughs. I have some Marvel action comics and a few Archies which are not worth talking about.
Tell me what you think about the ones you have read. Also any tips on how I should make them friends from foes.
Cheers,
Kabir
Feb
23
By Kabir Bhargava
Freed.in is an open source event that takes place every year. Various long-term users come and give talks during the event about a specific aspect of open source. People attending it are mainly newbies or college students. The venue for the event for a few years has been the Jawaharlal Nehru University in Delhi. My father is one of the managers for the event and works very hard to make it a reality. This year it took place on 20-21 February.  
One of my friends, who is an expert on python – a programming language, Senthil came to Freed.in to give a talk. He was there only for a day and just to give that talk. His topic was about designing a game using python. The idea of designing a game interested me enough to attend the first day of the two-day event. It was a Friday and I had school, and also a Physics test. But I bunked school and went to meet him to understand python since I love playing games. Before the session, he showed me various things that can be done using python. He made a worm game (snake) and also a ship game. He explained the logic of the code that was otherwise a jumble of words to me. Though it was tough for me to memorize the commands for the game, I do remember they were somewhat like this: create spaceship, to move left, left arrow, to move right…then, fire with space, if shot hits another ship, +1points. If an opponent's bomb hits player, then loud explosion and end. This was the first time I saw and sort of understood any code.  It was also the first time that it occurred to me that action-packed games that I play so often require knowledge of programming and patient checking and rechecking of a series of words and punctuation. I was also convinced about using python!
I found the event quite helpful because if just one session could convince me to know python, then I felt that others would be learning a lot more. For this year of Freed.in, surprisingly, 15 people from my school faculty had registered. I met my computer teacher who I learnt is an expert at open source applications. Interestingly, he was earlier our guitar teacher.
At the end of the first day, the volunteers and managers partied and ate together—it was clear that Freed.in to them meant lots of fun along with some work!
Feb
22
By Kabir Bhargava
I have gone for three concerts so far. I have found them all quite fun. My heart vibrates a lot with the loud sound and I quite like that feeling. And the fact that one gets to see a celebrity.
The first concert I went for was Shakti 2006. That wasn't a real concert, because one, we had to sit; two, my heartbeat remained normal through it; and three, the crowd was quiet and didn't stand up or scream. But the players played quite well.  There was Zakir Hussain, Shankar Pandey and a few more.
 The second concert was by Akon. That was a real concert. It involved standing, screaming, dancing and singing along. Akon is a real celebrity. He is very daring because he would jump into the crowd and even tried to push the barricade down between the paid categories. But the concert was very short for what I had paid for it—Rs.2000. It was only one and a half hours. I also had to miss my school trip for it. Akon sang very well, his band members were really good, especially his DJ. I am glad I went for it.
 The last one I went for was of the "Raghu Dixit Project." They are a South Indian Band who play Indian rock. One of my father's friends, Gaurav Vaz is the bass guitarist for the band. Since all their performances are for invitees only, we get invited to the Delhi performances because of him. They are a really energetic band as they jump around a lot. The lead singer, Raghu will ask you to stand and sing along and join him in jumping or singing. The drummer has a lot of power and plays really well; the violinist plays in the background and does a fabulous job too. The lead guitarist, Vijay Joseph would make funny expressions and play fantastically. Although, sometimes I couldn't tell whether the marvelous guitar sound was by the bass guitarist or the lead guitarist. Then Raghu, the lead singer and acoustic guitarist jumps and moves around a lot. The entire group is animated, and has a lot of fun while providing it to the audience. At the end of the concert we got to meet each band member too. They are all very polite and gentle. They crack jokes and make you laugh a lot. I liked this concert and the band a lot! I'm going to be looking forward to their new releases.
 My connection with music is also through my playing piano. I have just finished grade 3, can play a few familiar pieces and want to learn more. I'd like to be able to play Fur Elise and The Entertainer at the very least. I also listen to music on my mp3. My current favourites are Linkin Park, Eminem, 50 cent, Nirvana, Red Hot Chilly Peppers, Santana, Metallica, 3 doors down, Jonas Brothers and a few more.  I love music. Once, during our summer break, my friends and I formed a band and made a piece of our own but never got to playing it anywhere. I was the singer for the band. Our band was called, "The Wilderness." Our first song was called "Where I Belong." For now the band has been lost in the wilderness!
I'd like to end by saying Music's In My Soul (a song by Jonas Brothers)!
Feb
9
By Kabir Bhargava
I love playing board games, but I usually have trouble finding a companion to play with. I like playing long games like Monopoly and Life, and they scare off people!
Most of the games I like have been given to me as gifts. Sometimes I call a few of my friends over and we play for a few hours, or when my cousins come to spend the night at my house, we play together. The only games I can convince my parents to play with me are Word games – Boggle being a special favourite since it finishes fast.   
The word games I've got are Pictionary (the senior one), Boggle, Scrabble and Hangman. I like playing Pictionary even though my drawing skills aren't great. It is a bit tough like once the word on my card was the Wembley Stadium! Hangman is actually called Countdown and is an unknown brand but even then it has given us many hours of pleasure while pouring over its letters.
My collection of games is huge but I don't use some of them because they offer no challenge anymore. But removing them from my library is not an option. I like to build on my collection without breaking it. The ones that continue to hold my attention are: Mad, which is a really funny game; something called Go to the Head of the Class, which is a general knowledge game; Scotland Yard is a detective game; Monopoly Original and Football version, Pictionary, Life, Cluedo and more. All these games require two or more players so they get used less and less. The games that I can play on my own and I like are Kaleidoscope, Solitaire (Brain Vita), and other games mainly by Dr. Woods, a company that makes mentally stimulating games. Although not a board game, I have Mechanix Senior and something called Mechanix Motorized, which is the same thing just that there is a motor given along which you have to attach and the vehicle can move on its own! I also have the usual games like checkers, chess, snakes and ladders, ludo. Even now I do enjoy playing something like Checkers but I have played them all so much that I find them uninspiring.
Out of this really long list of games my favourite is Mad. It is really funny. For example, the person who loses all his money first is the winner of the game. If you roll the die with your right hand and you are a righty, you win a thousand dollars, so always roll it with the opposite hand. It is a game that must be owned, so put it on your shopping cart. Currently, my shopping cart contains two games by Dr. Woods that are Railroads and Kogworks. Among the old games, I still don't own a decent Chinese Checkers and have been longing to own one.
Other than these games, I would love to own a Robot that would play any game I want without questioning me.  
Feb
1
By Kabir Bhargava
I am now moving on to class 8. The last few days of school are of course the best since we party all day and play on the field. And because we know a break is around the corner. But towards the end of this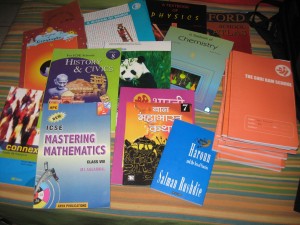 break, we think it was nothing! And then we start our new class.
The books for class 8 weighed about 5kgs and I almost collapsed carrying them. The first few days in the class usually feel very different as there is much more work to do. Also, I always have problems writing my class correctly since I am so used to writing the previous class. Our school used to have exams from class 6. But they stopped them till the finals of class 8 and instead kept a weekly test of 40 marks every Wednesday. So this year I would have final exams. I fear that this year would be a lot tougher because of that. But then I just stop and think to myself that there is no turning back now.
The next big milestone would be to give my boards. That's the only thing that really scares me right now. Also, every alternate year we get shuffled – our four sections get jumbled up to form four new sections with different students. In class 6 I had made a great group of friends but we got shuffled in class 7. Now there is going to be a new section 'E' so to absorb the new bunch of students, we will get shuffled again! I do hope that I get my friends from class 6 again. After all school can't just be academics without making lasting friendships.